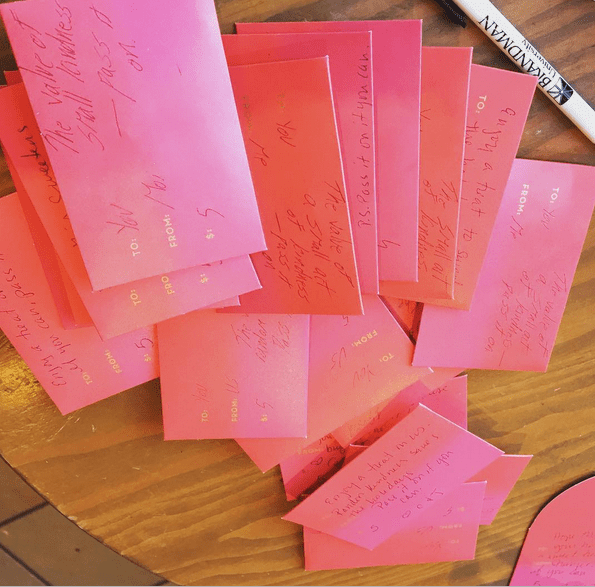 During the holiday season, we all tend to give a lot to our family, our friends, maybe our neighbors and our coworkers. That's all good. But the thing is there are lots of people who don't enjoy this time of year. It's expensive. It can be extraordinarily lonely. It is often stressful with all the shopping and parties and planning. And there tends to be more depression and anxiety than other times of the year.
There is so much we can all do to help others as we would help our inner circle. And maybe doing it for a stranger will make that act more meaningful. With the holidays approaching, I'm ready to get back into giving business. I want to see if you will join me.
It's been six months since I donated my left kidney to a man I'd never met. I feel great, and my tests show my one kidney is working as well as ever. Every morning when I look at my scars, I'm filled with the greatest satisfaction I've known in my life.
After I donated, I received an outpouring of supportive messages. It was completely unexpected and in a way that was what made them even sweeter. What struck me the most is how meaningful my donation was to other people. Many messages said some version of:
"My faith in humanity is restored"
"This story gives me hope"
"This is what we need in a world filled with so much anger and sadness."
It wasn't that I donated my kidney that was meaningful to most people. It was that I did it for a complete stranger.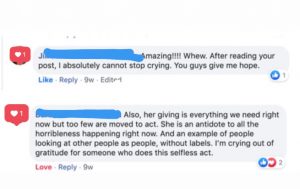 A few years ago I read about a study that divided people into two groups. Both groups were asked to rate their happiness. Then they were given an envelope with either $5 or $20. One group was asked to spend the money that day on something for themselves. The other group was asked to spend it on someone else or donate it to charity. At the end of the day both groups were asked to rate their happiness again. Who would you predict was happier?
The people who gave the money away were happier. It didn't matter if the participants were given the $5 or the $20. Giving it away just made people feel good regardless of how much was.
This study taught me two very important lessons.
Giving also helps the giver and there's nothing wrong with that.
Giving in small ways is just as good as big gestures.
In 2015, inspired by this experiment I decided to buy 20 $5 Starbucks gift cards and hand them out in a Target parking lot. The whole family joined in. I wanted my kids to feel the gift of giving even though it wasn't their money. We all took a stack and wrote messages on the envelopes. Then we walked around the parking lot distributing our cards. I remember my husband walked past a car with two young women waiting to park. He handed one a gift card. She was incredulous and frankly, she was suspicious. She wanted to know why he was giving her the card. After explaining there was no reason, she was visibly shocked and elated. He gave another card to the passenger. There was a mom putting a baby and her packages into the card. I recall the exhaustion of those days well. We slipped a card silently onto the baby's empty car seat and walked away.
Though we were a sample of only four, we can completely validate the results of the study. Once on a road trip someone treated our family to a meal. We never saw them. They just paid the bill. I almost cried. I wondered why they picked us. We immediately paid for someone else's meal and walked out doubly happy. Giving and receiving feels good. We should do it more.
Now comes the big ask. For the next three months let's make the world a better place by being nice to strangers. I mean make an actual concerted effort every day to do something nice for someone outside of your friends and family. Go big or small. Spend money or don't. All you have to do is find ways every day to do something nice for a stranger until Valentine's day.
Why stretch this giving thing way past the holidays? Because lots of people help out during the Thanksgiving to Christmas stretch. But often people feel more alone in the dark days of January and February. Valentine's day stinks for a large portion of the country. So, let's do this all the way until the promise of Spring is upon us.
I'm going to be using the hashtag #strangerkindness to keep track of our good deeds. There is no need to let me know if you'd rather stay private about your good works. But I'd love to see if we could log 1,000 acts of stranger kindness by 2/14/2020. If you use the hashtag and tag me on Instagram or Facebook or Twitter, I'll count it. My dream would be for this effort to spread far and wide to everyone you know and all the people we don't. So if you feel comfortable, please share this campaign.
What do I get out of this deal? I get to feel warm fuzzies on a regular basis knowing people are out there being kind to each other. Selfish? Sure. But we will also do lots of good so what's so wrong with that?
Below is a list of my favorite ways to make a stranger's day. Some cost money. Many don't. If you've got more ideas, let me know. I'll add them to the list. Thank you for reading this far and considering being kind to a stranger.
*  Give someone a smile and ask how his/her day is going
*  Offer a compliment
*  Treat the next person in line at Starbucks or Dunkin Donuts to a free drink (this is my husband's favorite)
*  Buy gift cards to CVS, Bed, Bath and Beyond and Target to keep in your car. If you see a person who might benefit from a card, give it.
*  Become an organ donor (donating at the time of death can save up to 8 lives)
*  Go to your local nursing home and ask to visit with someone who doesn't receive many guests
*  Make a cake and deliver it to a neighbor you don't know
*  Bake cookies for a local soup kitchen
*  Donate fruit growing on your trees or help pick for someone else's fruit that would be wasted
*  Go serve or volunteer at a shelter or food pantry
*  Offer a kind word to a parent of a screaming baby on an airplane and/or offer to help.
*  Read to kids or teach English to second language learners at your local library
*  Buy stamps and stand at the post office offering them to people
*  Give blood through the Red Cross
*  Let someone have the parking space you are waiting for
*  Let someone go ahead of you at the supermarket
*  Take back someone's shopping cart for them
*  Write a kind note to someone's boss about the good work they are doing (this is really meaningful in the service industry)
*  Teach an elderly person to use a cell phone or computer
*  Pay for someone's gas at the station
*  Share your umbrella
*  Buy extra movie tickets and pass them out
*  Tell a parent in the middle of dealing with toddler meltdown "You are doing a good job."
*  Offer to get a snack or treat for someone working overtime at the hospital
*  Make cards for to thank veterans for their service
*  Call a dialysis center and offer to decorate or even throw a party for people receiving treatment
*  Offer to babysit for a single parent or any parent
*  Go to a nursing home and offer to give manicures for the resident
*  If you see someone having a hard day, ask if they could use a hug
*  Go to a LGBT center and offer to be an adoptive parent for someone whose own parents have disowned them.
*  Hold the door open for people
*  Leave tampons or pads or condoms in a public bathroom with a sign saying "take one if you need one"
*  When it snows go around an shovel/plow someone's driveway for them