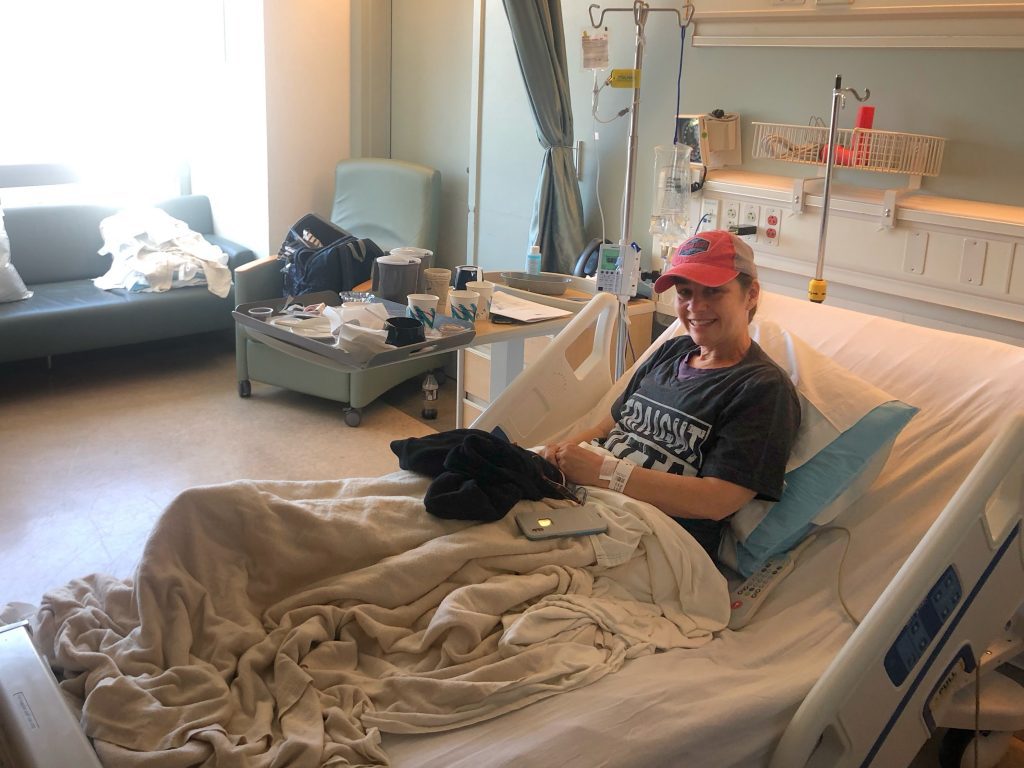 A few weeks ago, I donated my kidney to a man named Eli Valdez. Until our surgery date, we'd never met. I learned of his need when I saw a flyer posted in Starbucks. I wrote about the experience here and my husband's perspective is here. It was an emotional, painful but still wonderful experience.
In the weeks leading up to the donating and since I've been asked lots and lots of questions. I've learned that most people know very little about organ donation. I didn't know much either until I started the evaluation process. I am not encouraging everyone to go out now and be a donor. But I do want anyone who might be interested to learn more. Feel free to contact me if you have any additional thoughts or questions. I'd be happy to give whatever information I can.
Did you get paid?
No, it's illegal in the United State to accept compensation for an organ.
What do they do with the recipient's kidneys?
Well, they disconnect them and just leave them there.
So, a person can have 3 kidneys?
Yes, a person can have 4 or 5 depending on how many times they've needed a transplant. If the donor is a baby doctors will sometimes insert both of the baby's kidney into the recipient. It's all kind of fascinating.
How do you know he (the recipient) is a good person?
I don't. It doesn't really matter to me. I hope Eli takes good care of my kidney. But that's really up to him. I've given him a chance, and that's it. Everyone (literally, every person) deserves a chance.
Why can't someone in his family give him a kidney?
There are lots of reasons someone cannot donate. High blood pressure, diabetes, kidney stones and chronic use of medication for arthritis are all reasons someone is denied. In fact, I learned that only 15% of people who want to donate are actually approved for surgery. Also, just because someone is healthy enough to donate doesn't mean they should. There are many personal reasons such as family situation, employment, finances and religious beliefs that may also make it difficult to donate.
Who pays for the testing and surgery?
The recipient's insurance pays for everything. The only out-of-pocket cost for the donor is transportation and lost wages during recovery. For me these were negligible. I did get a free parking voucher and one for a meal in the hospital cafeteria. I LOVE free parking so this was a nice gesture from the kidney program.
What happens if the donor gets kidney disease and needs a kidney in the future?
There is a 1% chance I will need a kidney donation in the future. If that does happen, I would jump to the top of the transplant waiting list. I didn't know this before this process and it was probably the most comforting piece of information I learned.
Is your life expectancy affected by having only one kidney?
My life expectancy will not be affected by my one kidney assuming I don't start performing high risk behavior that could injure my remaining one. So that rules out skydiving. However, I personally would never, ever, have done that anyway. Just the fact that I was deemed healthy enough to donate means I will likely live longer than someone who is ineligible to give a kidney. But I believe we never know how much time we have. I want to make the most of each day I'm given. There are no guarantees.
Were you an exact match?
I was not an exact match for Eli. Really this is an extremely complicated issues that I am not qualified to expand upon. However, I was a good enough match for Eli. I learned though that one does not need to be a match at all to donate a kidney to a friend or loved one. There is something called paired exchange. Basically, if someone is approved to donate but isn't a match they can be matched with a total stranger in a database. Then another stranger would match with your loved one. It's absolutely revolutionary.
How was the recovery?
It was much harder than I anticipated. I think it's hard to go into surgery completely healthy and imagine the kind of pain I'd experience. It was rough. For the first day I was on constant stream of pain killers. But by the next day I was up and moving. For me, the most difficult part of recovery was my stomach issues. The anesthesia and pain medications did a not-so-nice job on my gastrointestinal system. But within two weeks I was driving, walking, and mostly back up to speed. Doctors say after 6 weeks I'll be like my old self.
What is the follow up you have after donating?
I will follow up with the doctors at 6, 12 and 24 months just to check my kidney function. Other than that, I go about my life. The only change I'll have to make is taking less Advil, which is probably a good thing in the long run for me anyway.
How difficult is it to find a kidney donor?
For some people they have so many friends and relatives that are lined up to give. Many are healthy and can just donate. However, for many people, they struggle to find someone to help them. They advertise their need on the backs of cars, in Starbucks and on social media. Think about how hard it must be to do this. Right now, 113,601 people are waiting for a life-saving organ. This means they are waiting for someone to die who is also an organ donor and also a match. Eli, my recipient and I are both blood type O+. I learned that people with this blood type wait the longest because they can only receive a donation from someone else who has the same blood type. People with other blood types can receive from multiple types. It's complicated and the wait can be excruciating.
What are the chances of rejection and how would you feel if your kidney didn't take?
People who receive organ transplants are on antirejection medication for the rest of their lives. There is always a chance of rejection. But the doctors monitor kidney function and other measures very carefully, and they can intervene if rejection seems to be in progress. It is absolutely possible that my kidney will not work out for Eli or that it will eventually fail. But any chance was worth it for me. Side note: my doctor told me at his clinic they just celebrated a parent who donated to a child 50 years ago and both patients and kidneys were still going strong. How incredible is that?
If I want to be a donor but don't know someone in need who should I contact?
Contact your local kidney transplant program or click here to learn more and register.
If I'm not sure about giving a kidney right now, how else can I help?
Become an organ donor in death. If everyone did that, the numbers of people waiting would drop drastically. Also, give blood, platelets or join the bone marrow registry. If none of this feels comfortable, here are some other options: volunteer at a dialysis clinic, offer to drive someone on dialysis or sit with someone having treatment. Lastly, it doesn't take much to make someone's day, especially someone with a chronic illness. If you know someone who is dealing with an illness, just ask, "Hey, how can I help?"