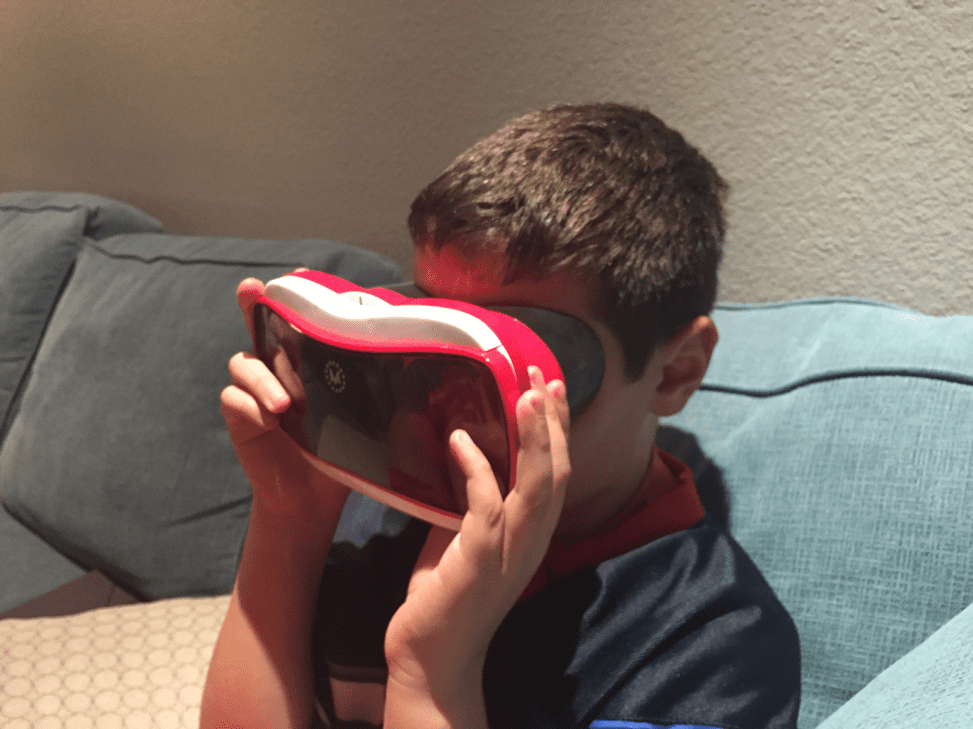 View Master Virtual Reality Starter Pack $17
View Master Experience National Geographic Dinosaurs $14.99
Review by Emmett Pearlman, 10 years old
The View Master is a virtual reality phone holder. It doesn't come with a screen. You need a phone to use it. You also need to download an app to use the View Master. There is a lever on the side of the VR set. When you push the lever it's like tapping the screen. That's how you operate the games.
Once you have the View Master you can also buy a lot of National Geographic apps on phone and use it on the view finder. My favorite game is the National Geographic Dinosaurs. In the Dinosaurs game there are a variety of different dinosaurs to interact with. There are also two different modes to play in. Kids can play in encounter mode which brings them to a 3-D scene with dinosaurs. Kids watch the dinosaurs and see what they do, what they look like and the area that they live in. The dinosaur interacts with the viewer. He may try biting you (only pretend bite). The Brachiosaurus comes really close to the viewer on the screen. It is very colorful too. There is a stampede of Stegosaurs that run by you. The Spinasaurus swims by and tries to nibble at you. It's cool to see what the dinosaur does to you and very cool to see their habitats. You can switch the dinosaur's skin that you can unlock in adventure mode.
In adventure mode you go through a series of levels with the dinosaur that you choose. In the levels you hatch more dinosaurs and defeat others. Each level becomes more difficult as you move on. In some levels you unlock the skins that can be used in encounter mode. Adventure mode is fun because it isn't easy.
In the National Geographic Dinosaur game kids can learn what the dinosaurs might look like, where they lived and the names. Kids from 7-years old to 13 might be interested in this game.
These games are educational because it puts you in experiences that you wouldn't think of. It tells you what it would really be like to be in that environment. The worlds look realistic.
There are other virtual reality games that can be used with the View Master. I would recommend the View Master and National Geographic Experience Packs to friends.
**Disclosure: As part of the National Geographic Insider Program I was provided with the items in this post to review. All opinions are my own and my son's.