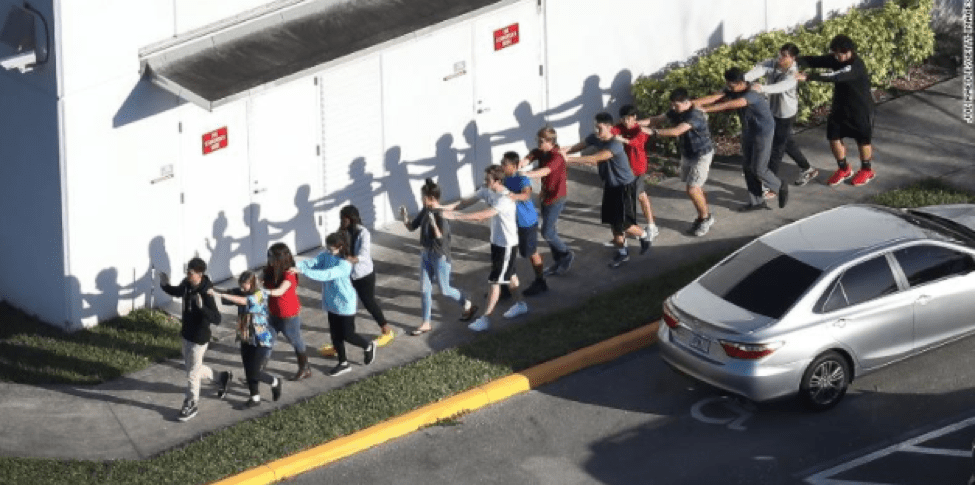 I'm so sick of writing useless commentaries on how parents can talk to their kids about the latest episode of senseless violence. At this point, when there's a shooting (at school or in a church or at a concert), there are no good ways to talk to kids.
Could this happen at our school? Yes
Am I safe? Not exactly.
Should I be scared? Kind of.
There have been 18 school shootings in just the first 45 days of 2018. Death or injury occurred at seven shootings and attempted or completed suicide happened at two. So, are my kids safe from gun violence? I don't really think so. Are yours? No, they aren't either.
I can't explain to my kids that some people value their right to own guns, any kind of gun, over the safety of our citizen. I can't explain this because I can hardly believe it. It hurts to much to imagine. But it's true. Some people want fewer restrictions. They want to be able to bring guns across state lines and into cities. They aren't interested in waiting periods or background checks. They want to be able to buy any gun that has ever been manufactured for any reason.
I can't explain to my kids that words written in 1791 are the reason we have to have "active shooter" drills at school. There is no way to discuss this issue with kids because they ask the obvious questions, and I don't have good answers.
Why does someone need a gun that can fire so many bullets? Ummmm….
How come nothing has changed since so many were murdered in Sandy Hook? Ummmm…..
I can't explain to my kids that politicians make the big decisions but those decisions are clouded by a competing interest. People in politics have to run for office, and that's expensive. I can't explain that the people we elect are beholden to the people or entities who help pay the costs of running for office. There is no good way to explain this without shouting and ripping my hair out.
The moral compass of this country is buried, and there are no comforting answers for children. Sometimes I want to pretend that nothing happened to spare my kids. But I can't do that either. They'll end up hearing about it from their friends on the bus or even during a commercial during Jeopardy. We can't shield children now from being killed or being frightened by it either.
I want to believe that change can happen, and there is a tipping point on the horizon. But more and more every day I feel like I'm living in a dystopian novel. Except this is reality. It's really happening that time and time again not one change happens after a tragedy. An armed security guard at my children's schools will not stop a gunman from shooting up kids on the playground or the outdoor cafeteria. More guns won't make anyone safer.
So, how should we explain this shooting and the next and the next? We can't because there are no words to explain all of this. What we can do is listen to their fears and express our own sadness. We can tell them that there is still hope, and there are ways to fix this problem. Tell them how important voting is and why. Tell children that in the face of a scary situation they should rise up. Be a good friend. Care for their community. Do what we can to help all people in this country to live better healthier more productive lives. Tell your kids you love them. That's really all we can say.